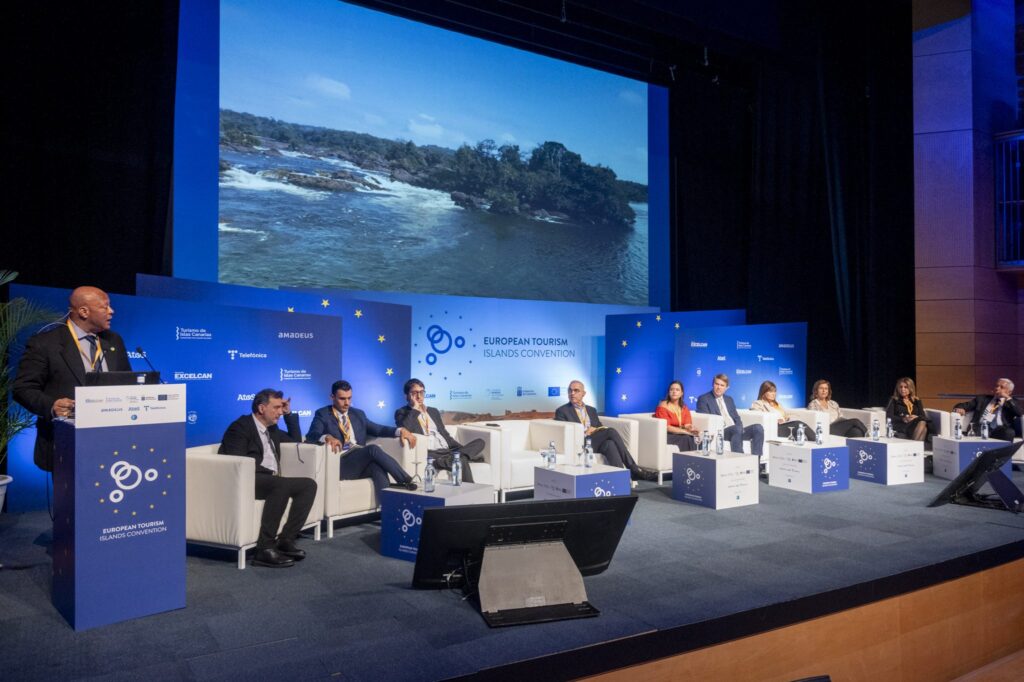 The Minister of Tourism, Industry and Trade of the Government of the Canary Islands, Yaiza Castilla, is committed to enhancing the value of tourism in the face of supranational bodies and to explaining to society "the benefits of this sector while compensating for its negative externalities".
The CEO of TUI, Sebastian Ebel, stresses the importance given by today's tourists to the consumption of local products, "which are not only more sustainable, but also have a positive impact on the local community and personalise the experience offered by the destination".
The second day of the 1st European Tourist Islands Convention highlighted the key role that sustainability and the fight against climate change play for travellers, airlines and destinations, both for their administrations and their inhabitants. The Minister of Tourism, Industry and Trade of the Canary Islands Government, Yaiza Castilla, participated in the round table discussion with public representatives from the European tourist islands of Gozo, Corsica, Crete, Azores, Guyana, Madeira, Sardinia and the Balearic Islands, where they debated and unanimously approved the Declaration of the Canary Islands, which was later made public by the President of the Canary Islands, Ángel Víctor Torres.
In her speech, Castilla explained that one of the objectives of this convention, organised by Canary Islands Tourism and Excelcan, is to promote tourism in the eyes of supranational bodies, "although we also have a task to do within each of our territories", acknowledged the Councillor, who expressed her concern at the growing trend of demonising tourism. "We must make people understand the benefits of this economic activity and, of course, also compensate for its negative externalities", explained Castilla, who recalled that Canary Islands Tourism already has a Master Plan for Climate Action that has been made available to the entire sector, with decarbonisation as a key issue.
She also agreed with the excessive dependence of the Canary Islands on tourism and the need to diversify the economy. "As head of Industry and Trade, we are developing strategies to increase the regional GDP of the industrial sector to 7.7%, and we also have an important film industry, with very attractive tax incentives. In any case, we must assume that tourism will continue to be our economic engine and be proud to be leaders in this sector," Castilla assured.
The minister explained that steps are already being taken to diversify the tourism sector itself and reduce dependence on markets such as the British and German ones, which account for almost 50%, as well as to diversify segments. Currently, Canary Islands Tourism is working on attracting 'remote workers', 'silver plus' and professional sportspeople, "who are quality visitors, who leave great benefits and allow us to be socially sustainable because their spending is distributed throughout the local economy," said Castilla, who gave as an example that teleworkers spend 44% of their spending at the destination, without taking into account accommodation and airfare.
"We all want luxury clients, but we must be aware that one of the great achievements of modern society is the democratisation of holiday travel and we do not want to and should not go against this", concluded the Councillor in her intervention in this panel, which was moderated by Cristina Núñez, Director of Necstour. The panel discussion included Dirk Glaesser, Director of Sustainability of the World Tourism Organisation; Kyriakos Kotsoglou, Minister of Tourism of Crete; Jean Luk Le West, President of the World Tourism Organisation; Jean Luk Le West, President of the Crete Tourism Council; Jean Luk Le West, President of the Crete Tourism Council; and Jean Luk Le West, President of the Crete Tourism Council; Jean Luk Le West, President of the Guyana Tourism Committee; Rosa Maria Carreiro, Director General of Tourism of the Government of the Azores; Angèle Bastiani, President of the Corsica Tourism Agency; Ronald Anthony Sultana, Director of Tourism and Economic Development of Gozo; Clara Noronha, Regional Director of Tourism of Madeira; and finally, Iago Negueruela, Minister of Economic Model, Tourism and Labour of the Government of the Balearic Islands.
Local products and technology
Sustainability was also at the heart of the speech by TUI CEO Sebastian Ebel, who in his talk 'The future of leisure travel' also spoke about the importance of technology in today's tourism. "Travellers want their own, unique experiences and they want to tailor them through technology, through smart services that they can access at any time with their mobile devices to achieve what they want," explained Ebel.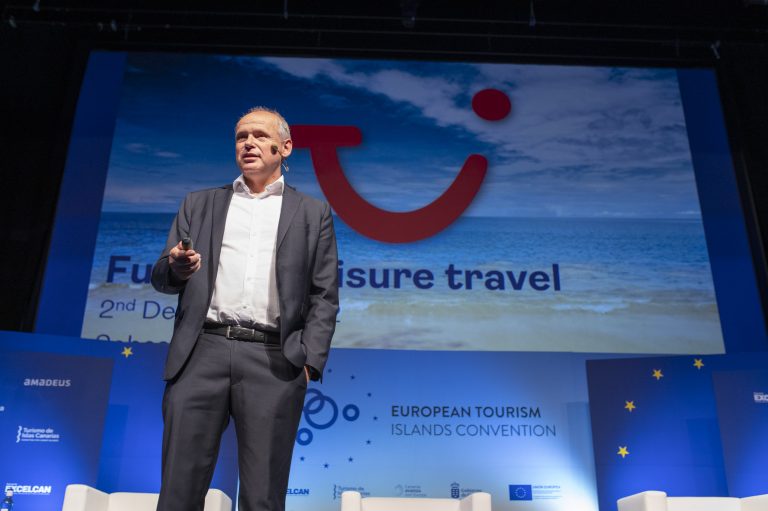 This megatrend is in addition to another, that of being aware of the ecological footprint that tourists generate with their activity with the intention of avoiding a negative impact. "Currently, 61% of travellers are thinking about sustainability, a percentage that is going to grow much more", said Ebel, who explained that these people "are willing to pay a higher amount to ensure that their trip is environmentally friendly".
Precisely because of this, these tourists are more likely to buy local products, "which are not only more sustainable, but also have a positive impact on local society and make their experience more personalised," added the TUI CEO. For this reason, Ebel called on hoteliers to offer their guests these types of products, which are in demand by new tourists and for which they are willing to pay more money.
Green and digital transition
After the TUI CEO's speech, the head of the Tourism Unit at the European Commission, Marie-Hélène Pradines, gave a presentation on 'The importance of tourist islands in the European tourism context', in which she highlighted the importance of the green and digital transition, for which "we have already designed a series of measures that we now have to start applying", she said.
In the case of the islands, Pradines explained that there are many specific actions for these territories due to their uniqueness, focusing on circularity, data management, research and innovation. Many of these measures are aimed at "supporting small and medium-sized enterprises, which represent more than 97% of the tourism sector in these islands", the European representative recalled.
The remoteness, vulnerability and scarcity of natural resources are, for Pradines, the main weaknesses of these territories which, precisely because of their small size, "are ideal laboratories for launching innovative pilot projects that provide solutions that are characterised by being more ecological and digital".
These ecological solutions were also the focus of the round table discussion 'The challenges of air connectivity', which was moderated by the Managing Director of Canary Islands Tourism, José Juan Lorenzo, and in which Javier Gándara, President of the Association of Airlines (ALA) and Managing Director of easyJet for Southern Europe, took part; Thomas Fowler, Global Sustainability Manager of Ryanair; Carlos Gómez, CEO of Iberia Express; Rodolfo Núñez, President of Binter; Alessandro Dassi, CEO of Thomas Cook and Vice President of Fosun Tourism Group; and Jesús Nuño de la Rosa, CEO of Air Europa.
Lorenzo recalled that
for the development of tourism in the islands it is "essential to have air transport, which is essential in the case of the Canary Islands, where 99.6% of tourists arrive by plane". The managing director stressed that "the European Union has set itself a very ambitious target to reduce net emissions and become the first climate-neutral continent by 2050, with an initial target of reducing all emissions in Europe by 55% by 2030, compared to the 1990 level".
In the pursuit of this decarbonisation, the president of the Association of Airlines (ALA) and easyJet's managing director for southern Europe, Javier Gándara, spoke out against aviation taxes, which he warned could jeopardise the Canary Islands' connectivity and the highly competitive tourist position enjoyed by the archipelago, "which could lose international tourists to other markets in third countries, which would also affect its economy and employment as a whole". Gándara pointed out that, according to a recent study by Deloitte, "the exemption of the Canary Islands from the application of the system of emission rights will prevent the loss of one million international tourists to the islands and 40,000 jobs".
In the same vein, Thomas Fowler, Ryanair's Global Sustainability Manager, said that "it is necessary to avoid taxation in order to be able to stay in destinations such as the Canary Islands, which have an important tourist industry". In any case, Fowler explained that Ryanair is already making an effort to reduce its emissions, making changes to its aircraft that allow them to fly with "4% more passengers and reduce emissions by 16%, although we still have a lot of work to do in our fleet to reach the reduction ratios of 2030".
For his part, Carlos Gómez, CEO of Iberia Express, was also against paraffin taxes, "which go against the waterline and reduce connectivity", and was in favour of "directing these efforts and investments in new technology that will allow us to have new and less polluting aircraft". Gómez acknowledged that "sustainability is an opportunity, it is the future and we must be at the forefront" and that to achieve it "public-private collaboration is fundamental, as we have already done with the Canary Islands Government". The CEO of Iberia Express explained that the company has renewed 25% of its fleet in the last two years and will continue to do so until it reaches 50%, with aircraft that reduce emissions by 20% and noise by 50%, and which are already used to fly 38% of the routes with the Canary Islands.
Rodolfo Núñez, president of Binter, explained that the airlines are doing everything possible to ensure that flights are sustainable in order to maintain connectivity. "If connectivity declines, it will affect the maintenance of the level of development of the European tourist islands, which has come about thanks to tourism, and it will break the lifestyle that Europe demands, with holidays in warm places. Mr Núñez insisted on the efforts made by airlines to renew their fleet and recalled that "in the year 2000 more paraffin was consumed per customer than is consumed today".
Alessandro Dassi, CEO of Thomas Cook and Vice-President of Fosun Tourism Group, focused his speech on customer concern about climate change. He explained that a third of people who are environmentally aware are also aware of the pollution caused by aeroplanes, which is an "essential issue for the Canary Islands, as it is the only way for its tourists to arrive and right now there is no imminent solution to this issue". The CEO of Thomas Cook highlighted the role of the airlines, "we are doing a huge amount of work to reduce our carbon footprint, investing in planes and new technologies to try to compensate and amortise emissions, with the prospect of being able to reduce them by 30%". However, Dassi called for the involvement of public administrations to continue research into alternative fuels, such as vegetable oils or used oil, "which are long-term solutions that require the effort and capital of everyone".
Finally, Jesús Nuño de la Rosa, CEO of Air Europa, said that all airlines are striving to operate more efficient flights that emit less CO2, which is why he called for fuels not to be taxed, but for this economic effort to be devoted to finding less polluting alternatives. De la Rosa also stressed the importance of promoting green jobs through public-private partnerships. "We need engineers and economists to study the circular economy, to create eco-labels in the food sector, to have specialists in the environment. Universities are not enough, we need entrepreneurs to train their workers because the easiest way to transform tourism is to start with ourselves," De la Rosa concluded.